When working on A North Country Lake Throughout the Seasons, we were excited to provide not only our design and typesetting services, but also Bookmobile's offset print management, eBook conversion, and book distribution and fulfillment services. Written by Bruce M. Carlson and published by the Woodtick Press, this book highlights the seasonal changes of Ten Mile Lake in northern Minnesota through astute observations and fascinating images.
Read on to learn more about this unique project.
Book Design and Typesetting
With over 200 images throughout, this book's design needed to integrate the images and text in an accessible, aesthetically pleasing way. We created an interior design where the images are interspersed throughout the text, working seamlessly together to showcase the above-ground and underwater ecosystems of Ten Mile Lake.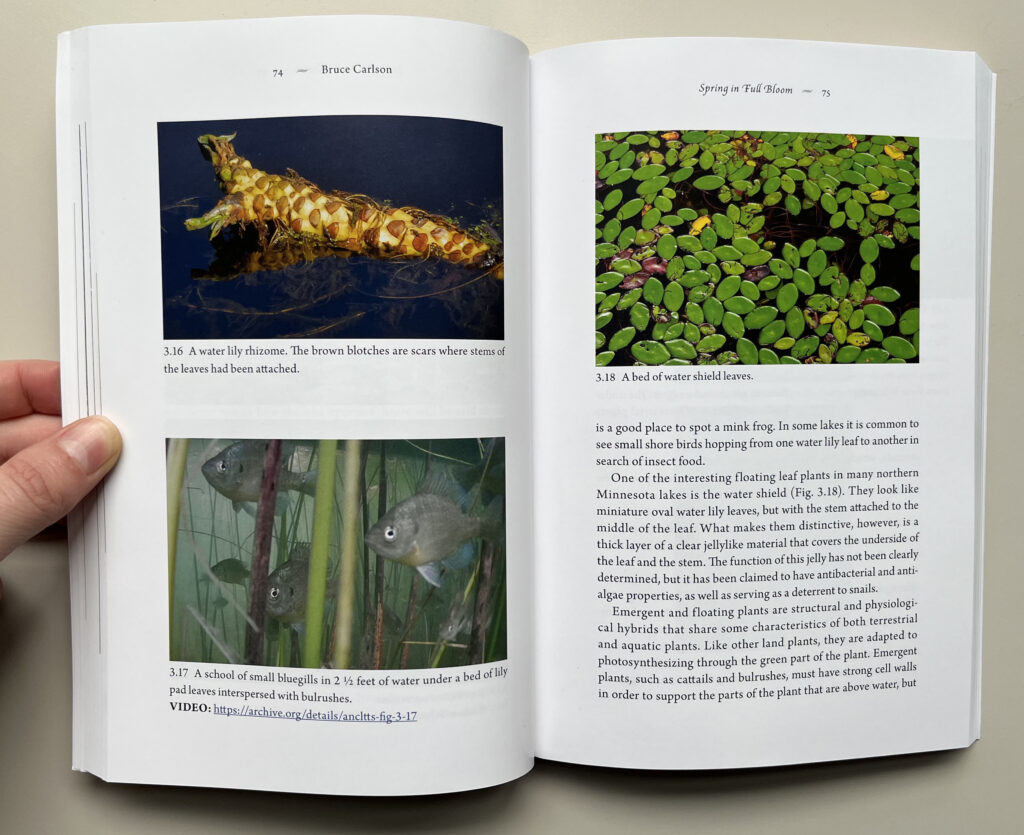 The layout uses Arno Pro for the text and headings throughout. Designed by Robert Slimbach, Arno is highly versatile with its numerous weight options, alternates, and features. The headings use Arno's swash alternates in italic, creating harmonious contrast with the body text. Like A North Country Lake Throughout the Seasons, Arno also has a connection to water—it's namesake is the Arno River in Florence, Italy. We love serendipitous moments like this when we can connect a font to its text!
Bruce compiled this book after analyzing hundreds of hours of underwater videos of Ten Mile Lake. Still images from these videos are included in the layout, allowing readers a glimpse into this lake's underwater world. Links to the online videos are included in each image caption so readers can experience the videos themselves.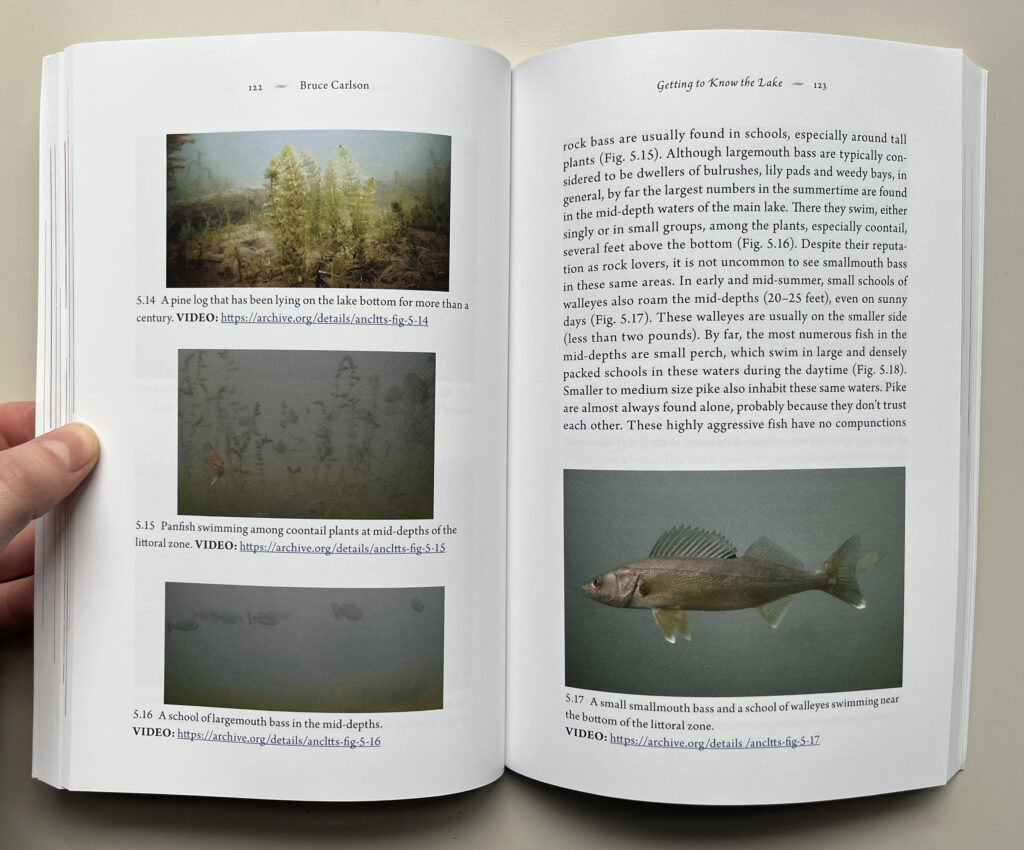 Offset Print Management
Bookmobile secured competitive offset printing for this book through our network of trusted offset printing partners. With a 4-color interior and the quantity of books needed, offset printing was the most cost-effective option. The interior is printed on 80 lb. gloss white paper which helps the 4-color images stand out.
eBook Conversion and Distribution
After printing was underway, Bruce enlisted our eBook conversion and distribution services.
A North Country Lake Throughout the Seasons transferred well to its digital format. The images flow nicely among the text, and cross-referenced figures are linked throughout for a smooth reading experience.
Bruce's video links are live in the eBook, which allows readers to tap on a link and be led directly to its corresponding video on archive.org.
Distribution with Itasca Books
When A North Country Lake throughout the Seasons was finished printing, the books were shipped to the Itasca Books warehouse, Bookmobile's sister company, for distribution and fulfillment services. Itasca stores the books in our warehouse, fulfills book orders, distributes metadata to important book trade databases, and also keeps track of the book's inventory, helping ensure copies of A North Country Lake Throughout the Seasons will always be available for eager readers. More info about Itasca's distribution and fulfillment services is available here.
A North Country Lake throughout the Seasons can be purchased from Itasca Books. The eBook version can be purchased directly from Amazon, Apple, Barnes & Noble, and Kobo.