Braiding Sweetgrass: Indigenous Wisdom, Scientific Knowledge and the Teachings of Plants by Robin Wall Kimmerer is a familiar book to our design staff. Published in 2013 by Milkweed Editions, the book has been reprinted numerous times and is a New York Times bestseller. Being Bookmobile is Milkweed's production partner for their offset printing needs, Braiding Sweetgrass has been through our printing process several times over the years.
When Milkweed celebrated their 40th anniversary year in 2020, they decided to commemorate this bestseller by reissuing a hardcover version of the book. The new hardcover version has a few more special touches than either the original hardcover or the paperback, and we wanted to share with you this beautiful new edition with some insights into the production process.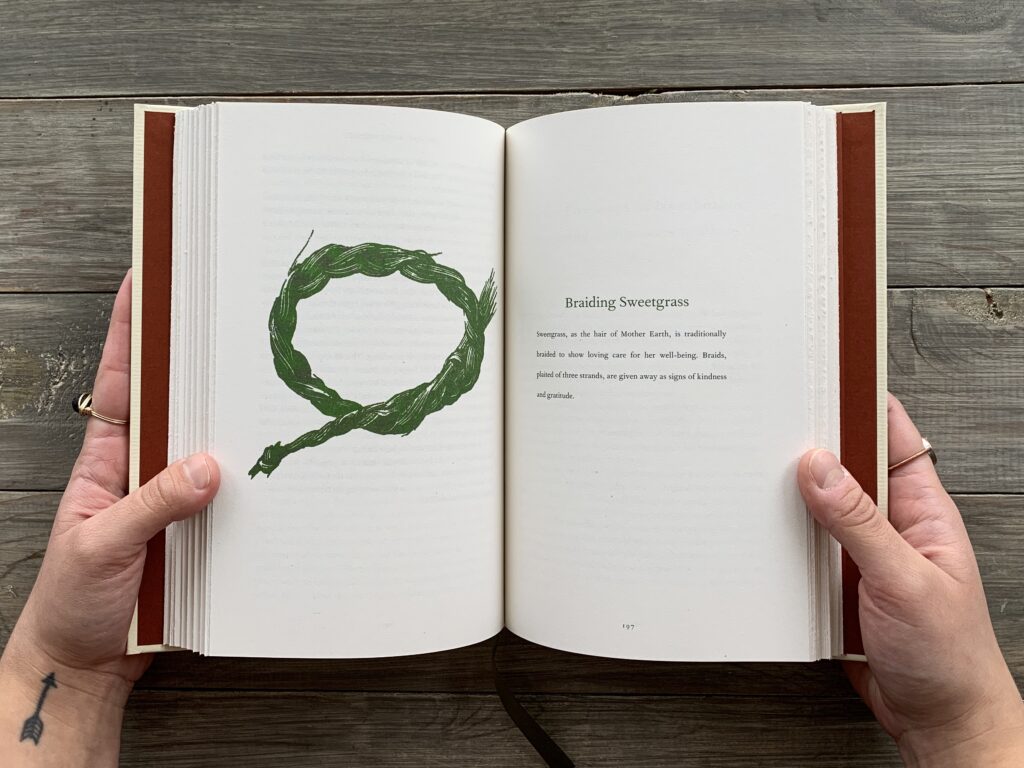 About the Production
Milkweed's Art Director, Mary Austin Speaker, had a clear vision in mind for how she wanted the new Braiding Sweetgrass to look. Braiding Sweetgrass teaches a love and appreciation for plants, science, and the earth through the perspective of indigenous beliefs and traditions. The book needed to feel earthy and natural to fit inline with this central message. Mary also wanted the book to feel extra special for those who have already read it, in essence creating a keepsake edition for existing readers.
During the early stages of the process, many of the discussions between Milkweed, Bookmobile, and the offset printer, Friesens, revolved around the special cover material. Milkweed's ultimate hope was to find a material that was tactile and earthy while maintaining as much detail in the reproduction of the braided sweetgrass artwork. Initial material ideas were for a natural, linen cloth cover. However, we quickly learned there were production limitations with reproducing the artwork on linen cloth as a foil stamp. That, paired with supply/demand issues due to the Covid-19 pandemic brought us back to the drawing board.
After lots of back and forth, we finally landed on a textured/embossed Rainbow paper that is emblematic of a natural linen cloth. This material hits nearly all of Milkweed's original goals. It is tactile, looks and feels natural, and allows the artwork to be reproduced without any loss of detail. This piece of art, specially picked out by the author, is an original wood engraving by Tony Drehfal, printed on this special edition book in a green Pantone ink.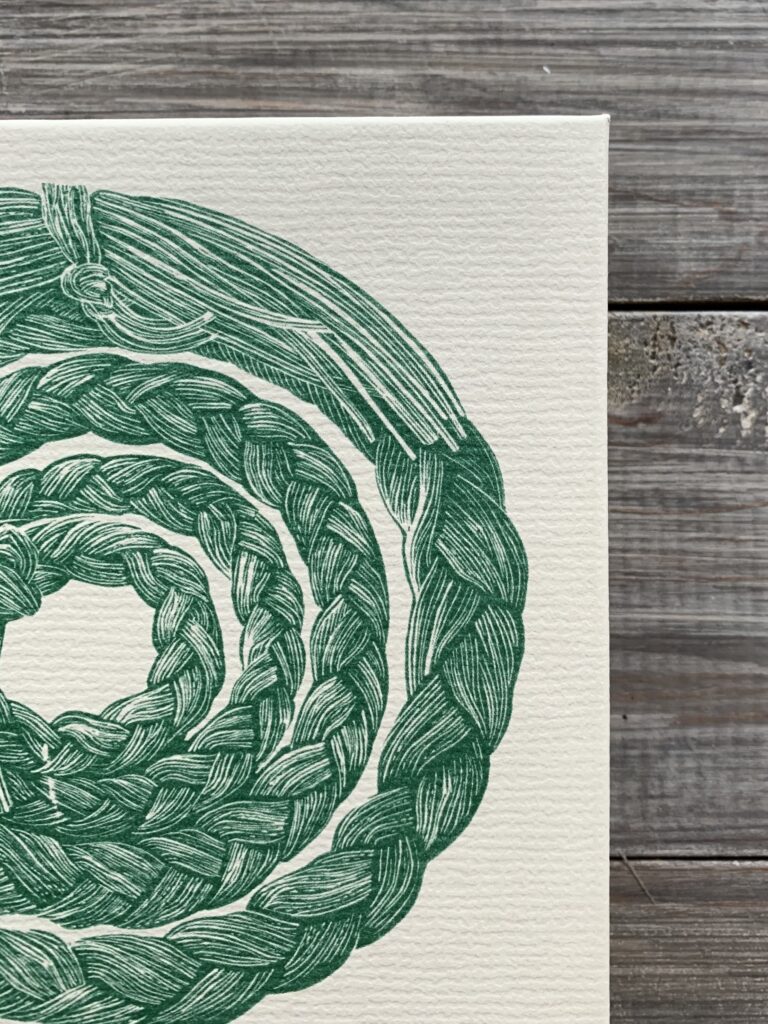 The hardcover of the book also features two pigment stamps on the front, spine, and back cover. These stamped areas are also debossed for a "letterpress" feel to the book, further enhancing its tactile quality.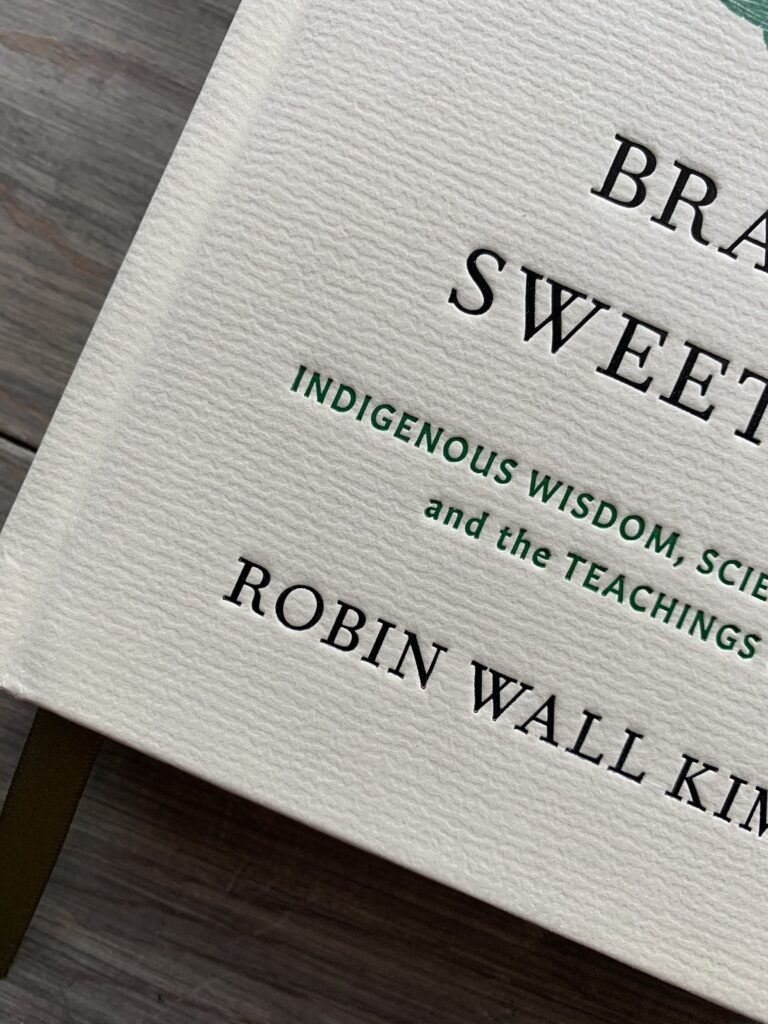 Other bells-and-whistles that elevate the feel of the book include:
A four-color interior printing
A bookmark ribbon
A soft, deckled edge
Rust-colored Rainbow endsheets
Interior illustrations by Nate Christopherson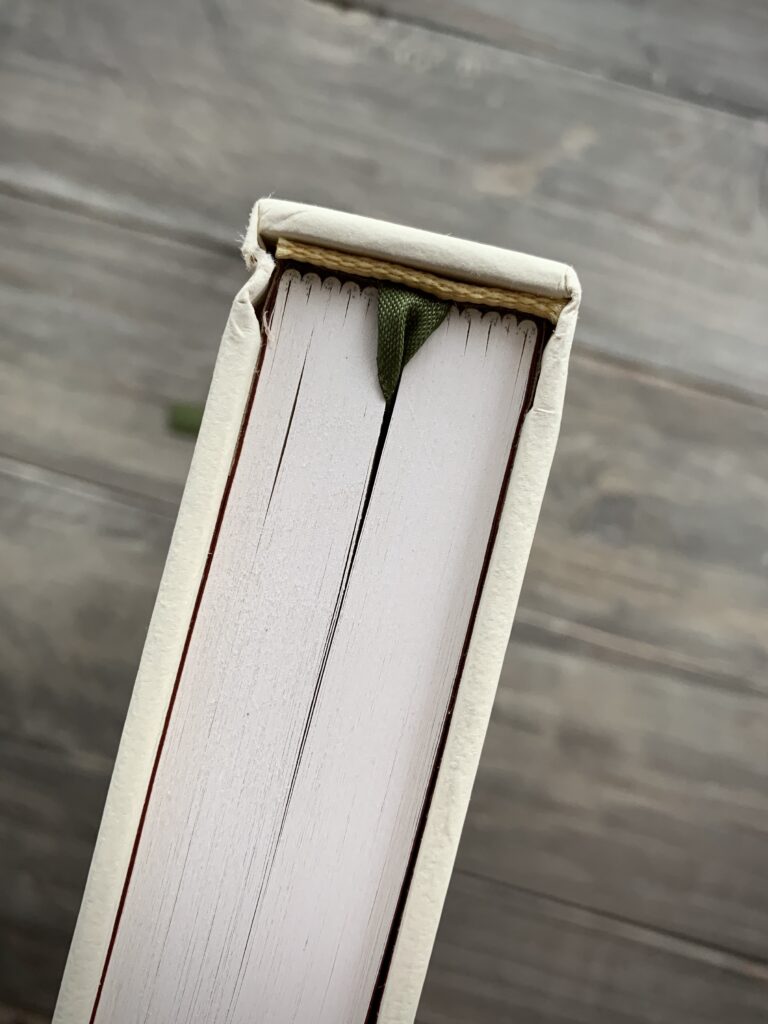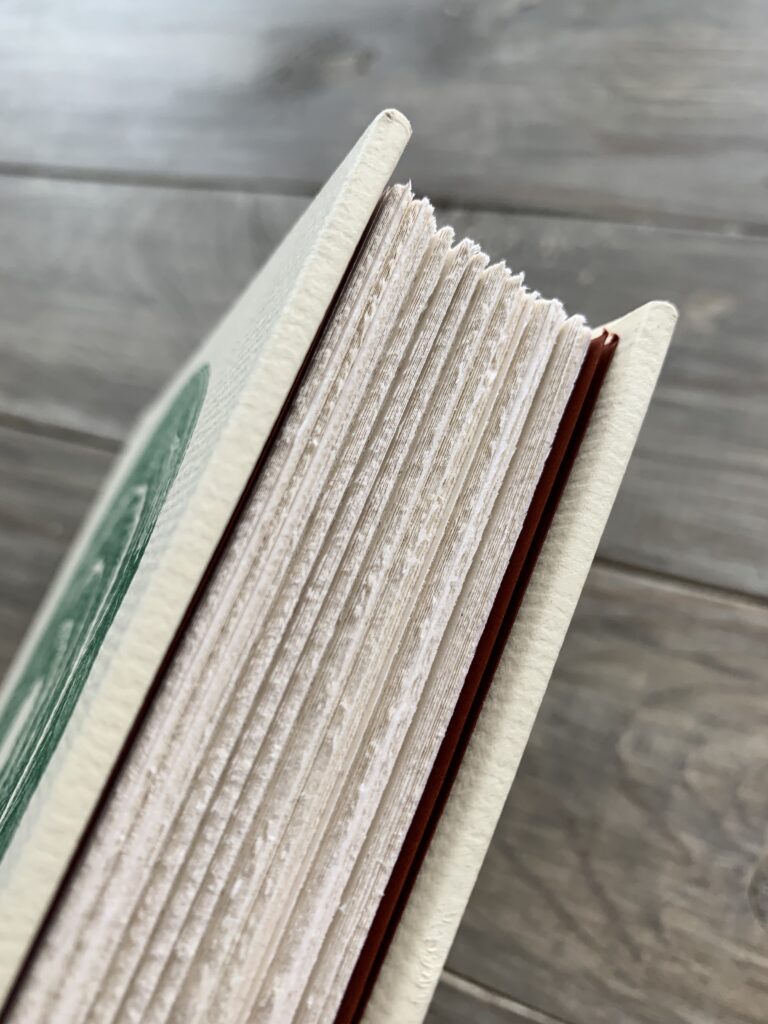 Bookmobile was honored to have been an integral part in helping this unique book come to fruition. Speaking about Bookmobile's involvement in this project, Mary Austin Speaker said, "Bookmobile was instrumental in securing special materials to make this edition of Braiding Sweetgrass so beautiful. They patiently worked with the printer to supply several examples of different cover materials, from cloth to paper, pigment stamping to printing, in order to discover which combination of inks and pigments would yield the most beautiful result, and, importantly, kept us clued in on important deadlines so that we could be sure to make our decisions in time to secure the materials we wanted and make our ship dates. We have come to depend on Bookmobile's attention to detail and patience with complex printing projects."
---
Purchase Braiding Sweetgrass here.
Interested in printing a book with similar materials or specs? Contact us for a custom offset printing estimate.
Book design and art direction by Mary Austin Speaker
Cover art by Tony Drehfal
Interior art by Nate Christopherson
Printing by Friesens Corporation
Project management by Bookmobile