For 100 years, the American Society of Radiologic Technologists has been helping enhance the profession of medical imaging and radiation therapy, with the goal of improving the safety and quality of patient care. The Shadowmakers: A History of Radiologic Technology celebrates these 100 years and "covers the early pioneers in the profession, the Society's formation and growth, legislative and regulatory initiatives, continuing education, technological advances and much more."
While the book is informative, it is also commemorative and special—not just in content but also in design.
Offset printed, the book features a large 12 x 12 trim size. This large size allows the design to shine.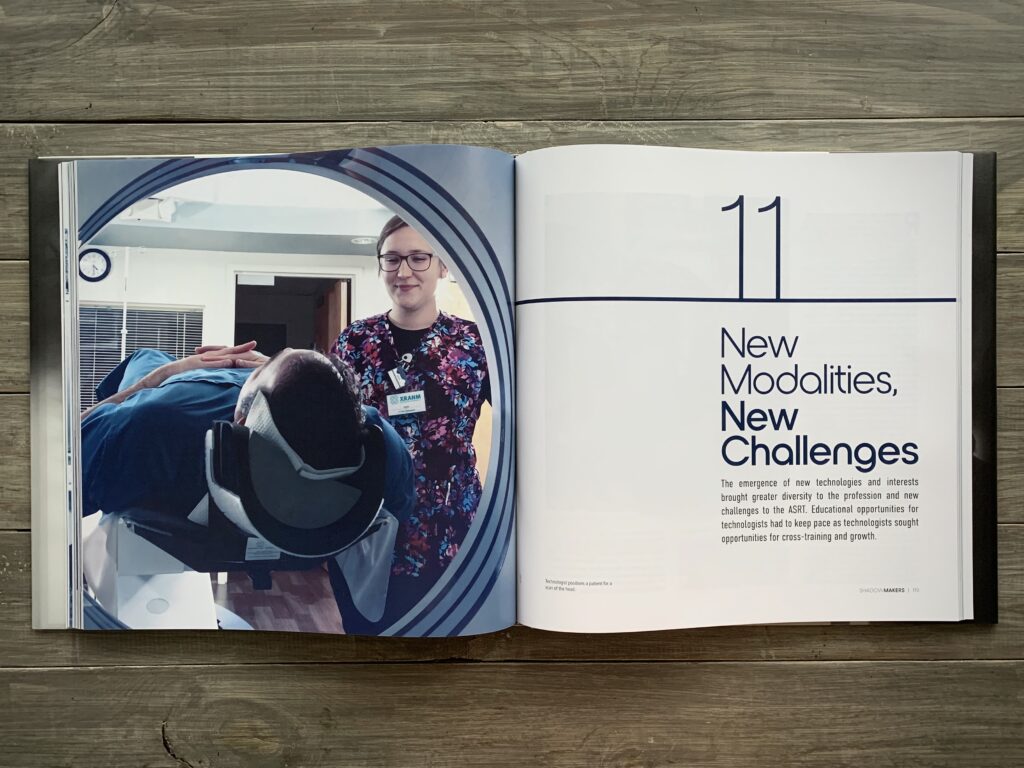 One of the most unique things about this book is how the design of the book speaks to the work of ASRT. While the book is a standard hardcover/dustjacket combo, the dustjacket isn't ordinary and the two components intermingle to a lovely effect.
Wrapping the book is a translucent dustjacket, printed in black ink. This, paired with the foil stamped hardcover case, allows the text on the case to shine through the dustjacket for a "x-ray" effect. The below video shows this unique feature in action.

Speaking to how this cover idea came to fruition, cover designer Myron King said:
The cover design came out of some of our early brainstorming meetings. We got very excited about including the idea of radiographs. X-rays can be beautiful in an artistic sense because of the light passing through the tissues and structure of the body. It just seemed natural to use elements of transparency on the cover or dust jacket so we could incorporate x-ray images along with the historical photos. We love how the dustjacket mimicked the idea of an x-ray.  

Working with Bookmobile, we were able to explore our options, test the transparency levels and have the book title be visible behind the translucent dustjacket to create a layering effect. I went through several rounds of mock-ups and tests to select a book cover color that was not too light or too dark. We know the design will resonate with radiologic technologists and provide a beautiful homage to the historical pioneers of ASRT's rich history — the shadowmakers. 

Lastly, the book also features 4-color printed endsheets. ASRT chose to showcase their company's timeline of milestone events.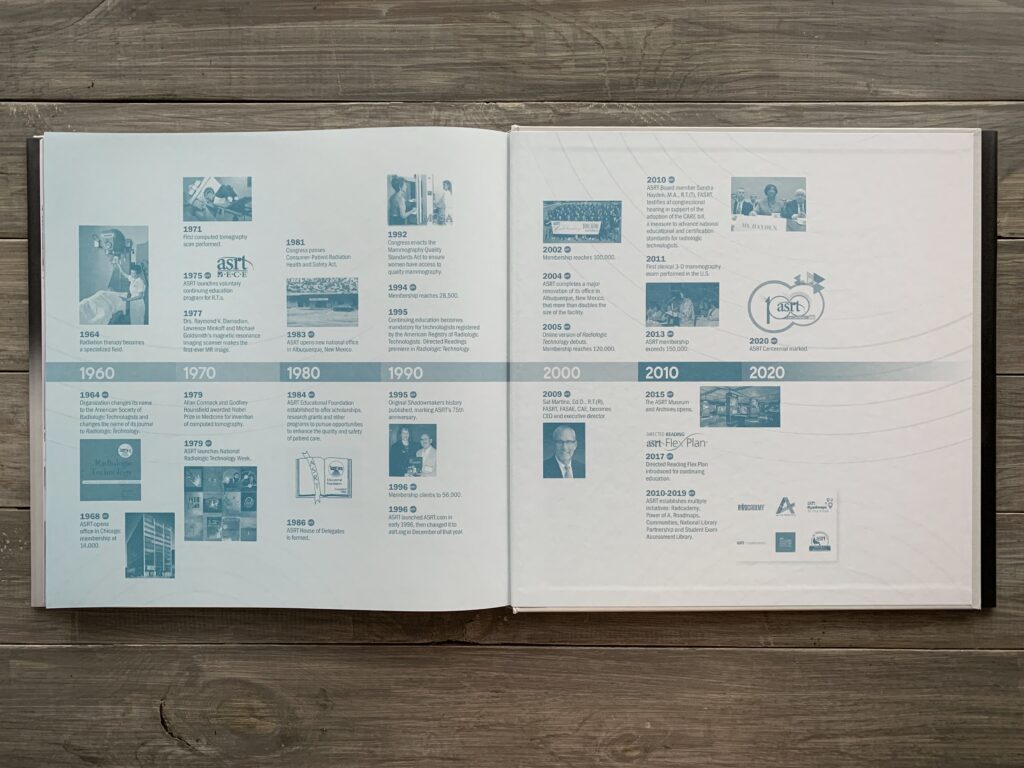 The Shadowmakers is available to purchase here. Proceeds from the sale of the book are considered a donation to the Society.
---
Interested in printing a book with similar materials or specs? Contact us for a custom offset printing estimate.